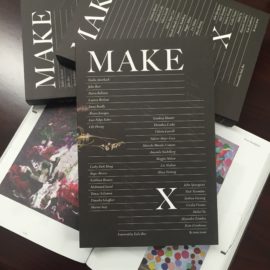 Issue # 1 MAKE X: A Decade of Literary Art
Mar 14, 2017
---
"This anthology is an explosion of astounding writing. Some of the dynamite originated in other countries and languages, some in English, all of it the kind of writing to light up your mind for days." Idra Novey, author of Ways to Disappear
"MAKE has always been a place to dig up gems, but the image of diamonds pressed between pages doesn't really express how alive the pages are." Amelia Gray, author of Gunshot
M A K E X TEN YEARS OF FICTION, POETRY, NONFICTION, & CONVERSATIONS ALONGSIDE ART & STORIES FROM THE EDITORS OF MAKE MAGAZINE WITH AN INTRODUCTION BY EULA BISS Published by Featherproof Books & Distributed by PGW March 14, 2017 | $30 | Trade Paper | 320 pp | ISBN 978-0-98318-639-7
With nearly 80 contributors, MAKE X includes fiction, poetry, essay, interview, translations, and more, selected from a decade of the Chicago-based print magazine, MAKE. The 350-page book invites readers to open at random and find writing from favorite authors, alongside those waiting to be discovered. Contributors include Mario Bellatin, Álvaro Enrigue, Lindsay Hunter, Jac Jemc, Valeria Luiselli, Maggie Nelson, Alissa Nutting, Roger Reeves, Mahmoud Saeed, Timothy Schaffert, Martin Seay, Nick Twemlow, Wendy Xu, Alejandro Zambra, Kate Zambreno, and many, many more.
The beautifully designed MAKE X also includes full-color visual art portfolios featuring new work from previous MAKE contributors, including Tauba Auerbach, Irvin Morazan, Liz Nielsen, John Sparagana, and Siebren Versteeg, among others.
In this collection of work from over a decade of Chicago-based MAKE magazine, the editors offer the collective voice of MAKE through selected fiction, poetry, nonfiction and conversation, alongside art and stories. These extraordinary literary works and visual arts were not chosen as a "best of," but rather as a representation of the many parts that together form this celebrated magazine. Featuring a foreword by Eula Biss. Contributors include: Tauba Auerbach, Eula Biss, Lily Hoang, Lindsay Hunter, Dorothea Lasky, Ted Mathys, Joe Meno, Maggie Nelson, Jac Jemc, Tim Kinsella, Kathleen Rooney, Mahmoud Saeed, Tomaž Šalamun, Marvin Tate, Valeria Luiselli, Chris Wiewiora, Mabel Yu, Kate Zambreno, and many more.
---